Dear Dumb Diary is now available at BentonBooks.com
In more exciting news, author Jim Benton's latest book Can Adults Become Human? has made the NEW YORK TIMES BEST SELLERS LIST!
Jim Benton has signed each of the books sold on BentonBooks.com
Jim Benton is also the creator of It's Happy Bunny, Dog of Glee, Franny K. Stein, and more!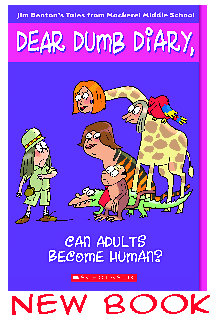 Can Adults Become Human? is the latest Dear Dumb Diary book by Jim Benton